Larry and Ann Dorsett, owners and operators of Dorsett Arabian Horse Farm have dedicated much of the past 35 years to the loving care, breeding, training and sales of Arabian Horses.
They take great pride in their trim 70 acre Arabian Horse Farm doing all the work and management themselves.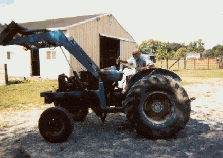 Larry Dorsett, who calls himself the Manager of "Feed and Fences", is the patient mainstay of the farm. Endlessly occupied by the day to day tasks of horse boarding maintenance, he nevertheless offers much needed partnership in the decisions that make up "a plan". Ann says Larry is the kind of person they mean when they say, "It can't be done without him!"
Ann Dorsett is a certified member of the AHA's Mentor Farm Program, sponsored by the Arabian Horse Registry. The mentor program is designed to introduce newcomers to the Arabian Horse breed. She has been fielding questions from Arabian Horse admirers in the Northeastern United States since its inception.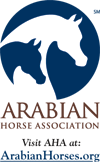 Ann Dorsett is also an active member of the County Board of Agriculture (usually reporting on horse related issues), the NJ Farm Bureau Delegate Advisory Board to the Equine Advisory Board of the New Jersey Board of Agriculture, and a member of the Woolwich Township Environmental Commission.
For more information about the Arabian Horse Association's Mentor Farm Program, please visit our Arabian Horse Link's page.
Larry and Ann have one daughter, Helen Dorsett, PhD. She lives with her husband, Michael Ford, PhD. in Sydney, Australia.